White Lake has crystal clear water, large areas of marl shoals and Rainbow Trout known to exceed ten pounds. The combination of those attributes will often inspire a fly fisher to dreams. Dreams of fishing that ideal lake thought to only exist in mythology. White isn't that perfect lake but it comes pretty close and is an excellent choice for a weekend of fly-fishing.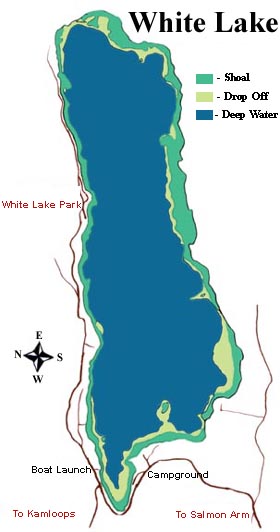 White is fairly large for a good trout lake. It's about three miles long by two-thirds of a mile across. It probably derived its name from the quantity of large white shoals. Just a few paved miles off the Trans-Canada Highway, White Lake is east of Kamloops and north of Salmon Arm. It sits between two arms of giant Shuswap Lake.
The shoal area on this lake is more than the entire surface area of many trout lakes in the southern interior of British Columbia. There are more than 100 acres of shoal. These marl shoals follow the entire circumference of the lake and in places are more than a two hundred feet across. That means lots of habitat for the aquatic bugs and more important, lots of food for trout to quickly grow to trophy size. As nature intended, portions of the shoals are slowly converting to a weedy bottom but that simply adds to the lake productivity and offers variety for the fly fisher.
At an elevation of 1542 feet, White is about the first interior fly fishing lake to be free of ice in the spring. The ice comes off about the last week of March. Icing over for winter usually occurs in late December but a lot depends on the weather conditions. This gives the lake a long season for growth and productivity. For those willing to brave the elements it also provides some early spring and late season fishing opportunities not normally available on most lakes.
Spring fishing can be a hit-and-miss proposition. Because of its low elevation, size and clarity the process of the lake 'turn-over' can be a long drawn out affair. Often that keeps the fish stressed, off feed and lethargic for most of April. However, a warm spring can speed up this process.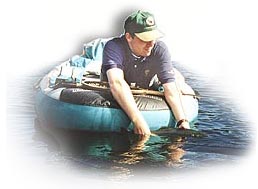 The best time for fly fishing White is during May and June. Turn-over is finished, feed is abundant and the fish will readily move into the shallows of the shoals to gorge themselves. With the clear water and the bright sunny conditions of July and August the trout will normally move into deep water and be tougher for the fly fisher to reach. Trollers often do well in mid-summer. September to ice-over is highly variable. Gammarus Shrimp and Waterboatmen are the most abundant food source but these don't tend to draw the fish into the shallows. After the first heavy frosts, however, the bloodworms will leave their mud tubes and the migrations of dragonflies and damselflies will be happening. These events can entice the trout into the shallows and provide the fly fisher an excellent day of fall fishing.
Even though the rewards of fishing White Lake can be stupendous, it isn't an easy lake for fly-fishing. Someone new to the lake will find a likely looking piece of water, usually along a drop off, and drop anchor. Not used to the clarity of the water they will be surprised to find themselves in 30 feet of water but still on the edge of the shoal. And yes, that is usually the primary feeding zone. Proper presentation of a fly to fish cruising at a depth of 25 to 35 feet can even challenge the best of fly fishers. Patience while waiting for the fly to get down into the feeding zone is one of the keys.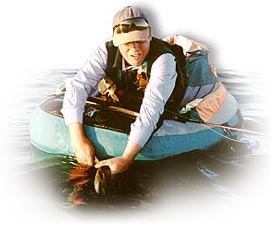 Any time you can find the fish feeding or even cruising in water less than 15 feet deep on White Lake you can almost be assured of a good day of fishing. A special feeding event has to be happening or is being anticipated by the trout to entice them into the shallows of these clear waters. At this point the formula for a successful day and a chance at one of those trophy trout is simple. Determine what food is causing them to brave the shallows, offer a good imitation and don't spook the fish. Taking care not to frighten the fish is another one of those problems you will have to overcome in these crystal clear waters.
Most fly fishers tend to fish the west-end of White Lake. Two sunken islands and some nice shoals are a part of the attraction but being the closest point to the Trans-Canada Highway and having a public access with a boat launch for day use probably helps. A commercial campground is also located at the west-end for those intending to stay more than a day and wanting the convenience of running water and electricity.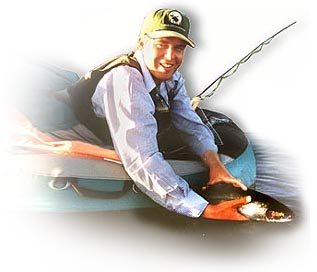 A dirt road runs the length of the lake along the north side. About half way down the lake is White Lake Provincial Park. This is a good place for those overnight campers who are self-contained and don't need electricity or running water. The park has an undeveloped boat launch suitable for small car-top boats and charges a fee for overnight use during the summer season. At the east-end of the lake there is also a small parking area from which canoes, belly-boats and some smaller boats can be launched.
And finally, let's talk about the fish in White Lake. About 60,000 Rainbow Trout are stocked in the lake each year. That provides each new fish about 93 square meters in which to feed and grow. That is two to three times the area normally available for stocked fish. This lower stocking rate is part of the reason the fish can grow to more than ten pounds and why the daily catch limit is restricted to two fish on a single barbless hook.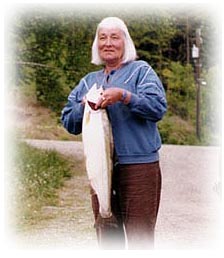 A nice rainbow from White Lake.
Length = 30 inches. Weight = 7 Lbs. 10 oz.
The Fly Fisher is T. Campbell

Because the waters remain cool, a Rainbow from White Lake will be very active and fight extremely hard even during the hot spells of summer. These fish are likely to be very aerial and acrobatic. They will also take you into a good portion of your backing with long continuous runs. Don't be surprised to loose some of these fish because of their fighting ability. I had one fish run me out of 150 yards of backing and I finally lost it when I had to palm the reel. Another fish made 14 leaps into the air with most of those leaps exceeding four feet in height (no exaggeration). A passing troller had time to video these acrobatics before I finally landed the fish. It was a four and a half pounder and was quickly rewarded for its performance by being released. It was my small gift back to the lake that has given me so many fond memories.

Enjoy White Lake and remember to never put anything foreign into these waters except your anchor and your fly.

Good Fishing!!

BC Adventure Network members serving this area:


If you would like to have your business listed, please Click Here.

Note: Always check your current BC Fishing regulations before you start fishing a new lake.