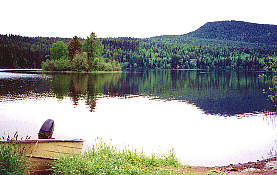 Resorts & Campsites: There is a large Forest Service campsite, complete with boat launch and picnic site located at this "trophy" lake. Although the campsite is RV accessible the road is steep and can some times be rough. There is a 10hp maximum for motors.

BC Adventure Network members serving this area:


If you would like to have your business listed, please Click Here.

Fishing Report: This "trophy" lake can yield rainbow up to five pounds and more. Fly fishing seems to get excellent results but other methods work well also.
Be sure to visit Fishbc.com for angling information!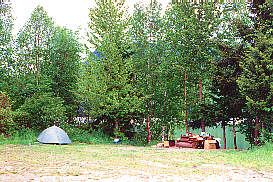 Viewscape: This small tranquil lake (3500m x 500m) offers a scenic view of sloping hillsides forested with a mix of coniferous and deciduous trees; spruce, fir, aspen, pine, birch, and some cedar. Take the time to pause and watch for some of the area's prolific wildlife.
Shoreline: A clear lake appearing dark green in color. Weeds are present at the edge, being of lilly pad, reed, and bottom cover type. High hills around the lake are visible.
Note: Always check your current BC Fishing regulations before you start fishing a new lake.