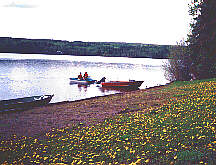 Resorts & Campsites: A picnic and recreation site with outhouses is available. Quesnel is the closest centre for facilities and services.

BC Adventure Network members serving this area:


If you would like to have your business listed, please Click Here.

Fishing Report: The wild stock rainbow trout can reach about a pound, although they are known for being quite elusive.
Be sure to visit Fishbc.com for angling information!

Viewscape: The hilly surrounding area is predominantly forested, with a mixture of aspen, willow, cottonwood and Douglas fir. Pastureland composes about 10% of the lakeshore area.

Shoreline: Sandy, gravel soil comprises most of the shoreline with a small amount of willow in evidence.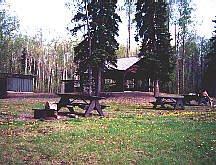 Nearby Lakes
Puntataenkut Lake: Puntataenkut Lake (also known as Tibbles Lake) is located about 6.5 km. (4 mi.) west of Puntchesakut Lake. This 279 ha. / 690 acre lake reaches a maximum depth of 14.9 m. / 49 ft. and is home to both Rainbow Trout and Char.
Note: Always check your current BC Fishing regulations before you start fishing a new lake.