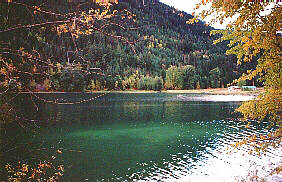 Resorts & Campsites: Campsites and boat launch are available at Allison Lake Provincial Park.

BC Adventure Network members serving this area:


If you would like to have your business listed, please Click Here.

Fishing Report: Managed as a high use lake, Allison was stocked with 10,000 Pennask stock Rainbows in 1994. It provides a good summer and winter Rainbow fishery for trout up to 3-1/2 lbs. Trolling small lures, and spinning gear is very popular, however fly fishermen also do well. Allison hosts a good population of Gammarus Shrimp.
Be sure to visit Fishbc.com for angling information!

Nearby Lakes
Stringer Lake - Stringer Lake with a surface area of 8 ha. (20 ac.) is found about 2 km. (1.2 mi.) east of Allison off Hwy. #5A. The access road is rough so a 4wd may be necessary. Stringer provides a Rainbow fishery with trout reaching up to 2 lbs. A small BCFS campsite is located at the lake. Rampart Lake, is located southeast of Stringer. The best access is via the Summers Creek Road off of Hwy. #5A just north of Princeton. A branch road off the Summers Creek Road will take you to the lake. The road is rough and a truck is recommended.

Rampart Lake - A small 12 ha. (30 ac.) fly only lake, Rampart produces Rainbows up to 5 lbs. Two small BCFS campsites with cartop boat launching are located at the lake.

Dry Lake - Dry Lake with a surface area of 36 ha. (89 ac.), lying at an elevation of 793 m. (2601 ft.) is managed for large quality trout. This lake produces excellent fish and stocking has been increased to 8,000 yearling Pennask Rainbows annually to keep up with increasing traffic on the lake. 1 resort can be found at the lake along with camping, swimming beaches, and boat launch.

Stringer Lake - Dry Lake is found on the west side of Hwy. #5A, just south of Allison Lake.

Laird Lake - Laird Lake is located 2 km. (1.2 mi.) south of Dry on Hwy. #5A. It has a surface area of 31 ha. (77 ac.) and supports good populations of Rainbows up to 1-1/2 lbs. Brook trout are also found in good numbers. In 1994, 3,000 yearling Pennask Rainbows were put into Laird. Cartop boat launching is available at the lake.
Note: Always check your current BC Fishing regulations before you start fishing a new lake.