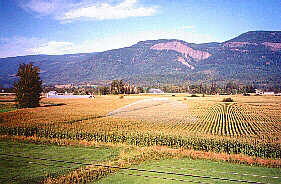 The North Okanagan includes a number of communities that lie to the north and east of Vernon. All have some special feature or activity to offer the visitor; whether it be fishing, swimming and camping or touring historic or commercial sites of interest.
Accommodations: There are a wide variety of accommodations to satisfy all visitors; the many resorts, RV campsites and provincial campsites and parks are perfect for the outdoor enthusiasts while motels, bed and breakfasts and lodges are available for those who like a bit of "indoors".

Armstrong, BC
Travelling 23 km (14 mi.) north of Vernon on Highway 97A will bring you to quaint and historic Armstrong and Spallumcheen. These communities have a unique pioneer charm, enchanced by many heritage buildings and homes.
Armstrong is a town full of history and today still provides a feel of the old west. Many original wood frame buildings are still resident in the town limits and within are a variety of shops.
A museum and gallery, golf course, and exhibitions are just some of the features attracting many to this quaint town.
Population: 3500
Elevation: 351 m (1152 ft)
Industry: sales, service, manufacturing and tourism
Location: On Highway 97A, north of Vernon in the Okanagan.
Local Attractions: Cheese Factory tours, Caravan Farm Theatre, Interior Provincial Agricultural Exhibition and Stampede (September)
Accommodation & adventure providers in this area.

---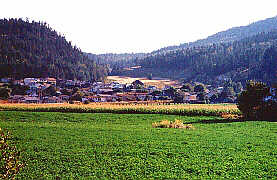 Enderby, BC
Located 13 km (8 mi) north of Armstrong on Highway 97A, Enderby is located on the banks of the Shuswap River.
The steep volcanic Enderby Cliffs stand sentinel above the city. This commercial centre for agriculture and forestry is also popular for its boating, hunting, fishing and wilderness vacation resorts.
The Shuswap River once played a major role as a transportation route for early settlers and the Shuswap Indians. The surrounding rivers and lakes may be explored by canoe or kayak.
The Larch Hills Cross Country Ski Trails and Hunter's Range Snowmobile Trails offer excellent winter activity. The museum and Environmental Interpretive Centre offer a better insight into the areas history, both human and natural. Visit nearby farms raising animals such as llamas, bison and deer.
Population: 6730
Elevation: 360 m (1180 ft)
Industry: agriculture, forestry, manufacturing and tourism
Location: On Highway 97A, north of Armstrong.
Accommodation & adventure providers in this area.
---
Grindrod, BC
This small farming community is situated on the shores of Shuswap River in a lovely valley. Travel north of Enderby on Highway 97A to reach Grindrod, Mara Lake and Sicamous where you connect with Highway # 1, the Trans Canada.
The small village of Grindrod is located North of Enderby, along Highway 97A that winds its way beside Mara Lake and connects with the Trans Canada Highway at Sicamous. Situated on the floor of a picturesque tranquil valley and on the shores of the slow flowing Shuswap River, the village is surrounded by lush green pastureland. The residents along the river can watch the houseboats as they ply the waters on their way to Mara Lake. This area attracts many tourists from near and far to its peaceful and spectacular scenery, with many resorts, houseboats, bed & breakfasts, motels and hotels.
Population: Approximately 400
Industry: agriculture
Location: On Highway 97A north of Enderby.
Accommodation & adventure providers in this area.
---
Lumby, BC
A short drive (25 km/16 mi.) east of Vernon is the friendly community of Lumby. With its small town congeniality, this is the perfect place to get away from it all. The forest product industry welcomes visitors to tour its lumber mills and events such as Lumby Days and Snow Fest are fun to attend. Pan for gold, go camping and hiking or arrange to tour the old mning digs in nearby Cherryville.
Local Attractions: golf courses, Lumby Fish Hatchery, Museum, Sawmill Tours, Shuswap Falls, Wildey Dam
For Information:
Lumby Travel InfoCentre,
2400 Vernon St., Box 534, Lumby, B.C. V0E 2G0
• Tel/Fax: (250) 547-2300