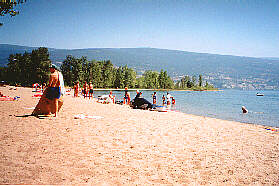 Summerland, BC
Summerland, with its quaint Tudor theme and famous Five to a Dollar store, is a truly unique community. Set among orchards and vineyards and surrounded by sandy beaches, rolling hillsides and pristine lakes, this area is perfect for exploring, hiking, camping and fishing.
Founded in 1902 by John Moore Robinson and named after the area's sunny climate, Summerland's sandy beaches, beautiful surrounding area, golf courses and access to Okanagan Lake are just some of it's attraction to visitors who return year after year to re-discover and enjoy this central Okanagan town. Visitors can partake in winery tours, water-sports, visit nearby Provincial parks, the Summerland museum and the Agricultural Research station.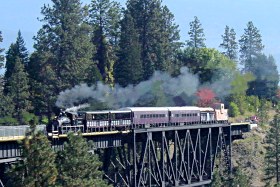 Photo courtesy of Kettle Valley Steam Railway

Location: Summerland is located on Highway 97, 15 minutes north of Penticton

Accommodations: The entire area has plenty to offer the visitor in the way of accommodation; camping in private or provincial parks, staying at one of the many hotels or motels or relaxing at one the resorts, lodges, inns or bed & breakfasts

Accommodation/Adventure Providers




If you would like to have your business listed, please Click Here.
---
---
Local Attractions: Agriculture & Agri-Food Canada Research Station, Ornamental Gardens, Provincial Trout Hatchery, golf courses, Fruit Packing tours, Kettle Valley Railway, Summerland Museum, Winery tours
Population: 11,080

Industry: Tourism and fruit production
Visitor Information:
Summerland Travel InfoCentre.
15600 Highway 97, Box 1075,
Summerland, British Columbia, V0H 1Z0
• Tel: (250) 494-2686 •
Fax: (250) 494-4039
Thompson Okanagan Tourism Association,
1332 Water Street, Kelowna, British Columbia, V1Y 9P4,
• Telephone: (250) 860-5999 • Fax: (250) 861-7493

Accommodation/Adventure Providers
If you would like to have your business listed, please Click Here.