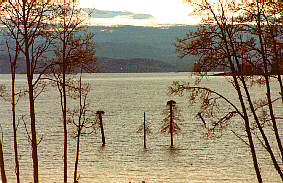 Resorts & Campsites:
BCFS campsites can be found on the north side of the lake.
While in the area the following BC Adventure Members look forward to serving you:
Lakes District Air Services - Whether you charter one of our float equipped aircraft for business, pleasure, or to take advantage of one of our remote fishing adventures (including the untouched wilderness of Tweedsmuir Park at our cabin at Tesla Lake), you'll be assured of friendly, courteous service. We serve North Central BC from our Burns Lake location.
Fishing Report:
This huge reservoir links together many lakes including Tahtsa, Whitesail and Natalkuz. These waters can yield spectacular results for large Rainbow and giant Lake Char. Trolling with large spoons, plugs and spinning gear produce best results however guides are highly recommended to show you where the good water is and to keep you safe. These waters can be dangerous with floating debris and submerged stumps. Inquire about guiding services in the town of Burns Lake.
Fly-in services are also available
from Burns Lake. If you are considering chartering a float plane then you should definitely be thinking about flying in to Eutsuk Lake located in Tweedsmuir Park just south of Oosta. Excellent fishing for huge wild Rainbows to 12+ lbs. will make this trip a truly memorable one.

Be sure to visit Fishbc.com for angling information!
Note: Always check your current BC Fishing regulations before you start fishing a new lake.