Boating the Large Lakes
of BC's Vancouver Region


---
The Harrison Lake area, is home to the legendary Sasquatch (Big Foot), a giant apelike creature covered with hair. The scientists are skeptical and waiting for proof that the Sasquatch exists but there are many believers. Keep your eyes peeled. The Sasquatch might be just around the next bend in the road or hiding behind a tree.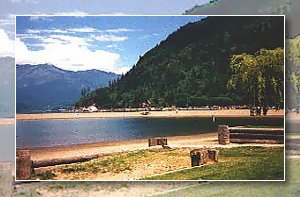 Harrison Lake
---
Harrison Hot Springs is referred to the Spa Capital of Canada. Residents of this small town cater to the people who come to take advantage of the hot springs, health facilities and resort. Two sulphur-potash springs bumble up from the mountains on the west side of the lake making Harrison Hot Springs popular with visitors and locals.
British Columbia history is intertwined with Harrison Hot Springs and Harrison Lake. First Nations People have visited the springs for thousands of years and the aboriginal name for the lake means 'hot water'. St. Alice Hotel with a bathhouse, was the first resort, built when the railway was under construction in the year 1886. In 1920 fire destroyed that hotel and the present one was opened in 1926. Owners were given rights to the hot springs, with a provision that a flow of the springs should be available to the public. During World War 11, the armed forces used the hotel.
Miners heading to the Cariboo and the gold rush in 1859, started their trip at Harrison Lake. They went up lake by steamer to Port Douglas. From this point on, the trip was by overland and by boat to the goldfields in the interior. This route was in use until the building of the Wagon Road North.
Harrison Hot Springs with accommodations, restaurants, shops and other facilities looks after visitors and local residents' needs. One of the most popular attractions at Harrison Hot Springs is the large public pool with water temperature at 39 degrees Celsius (102 degrees Fahrenheit). A soak in this pool, is believed to relief some ailments.
Boating, sailing, fishing and canoeing are enjoyable activities on Harrison Lake. The lake is 60 km. (37.2 mi.) long and storms are sudden, so stay close to shore for protection. On land are many hiking trails and driving tours. Sasquatch Provincial Park bordering on Harrison Lake is an excellent place for camping. Learn about the past with a visit to Kilby's General Store, hotel, post office and horse barn. It is part of Kilby Provincial Park and camping facilities. A visit to the Fraser Valley is not complete, until you visit Harrison Lake and Harrison Hot Springs.