Cruising BC's Central Coast

Fitz Hugh Sound to Finlayson Channel:
Cape Calvert on Calvert Island is the start of Fitz Hugh Sound, but Safely Cove and Fifer Bay, found farther north offer anchorage. Joe's Bay and Elizabeth Lagoon, off the beaten track, are both worth a stop. Small crafts can find anchorage at Green Island Anchorage and Pruth Bay. Protected with scenic surroundings is Goldstream Harbour on Hecate Island, a good place for home base when exploring
Hakai Pass
or Koeye River. Make your way up Fitz Hugh Sound and the many well-protected anchorage sites. Take refuge at Inner Warrior Cove. Stop at Namu Harbour an aboriginal village that was once a bustling cannery or call in at Rock Inlet. Now you are in Fisher Channel that leads into the Dean Channel, Ocean Falls and many other scenic and exciting spots.
---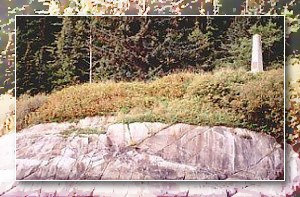 Photo of MacKenzie Rock & Cairn
---
A couple of interesting side trips are into Burke Channel and Dean Channel. Burke Channel and the North Bentinck Arm will take you into the town of Bella Coola. Farther north is the Dean Channel. If history is your weak point, sail up the Dean Channel to Sir Alexander Mackenzie Park. A rock and cairn mark the spot where Mackenzie's cross-country journey to the Pacific Coast ended on July 21, 1773. He was the first European to make it across land to the Pacific Ocean.

This section of the west coast is very remote and only the seasoned sailor or charters see and enjoy all it has to offer. Here you will find fishing, crabbing, kayaking and cruising that is amazing. There are deep water fjords, snow peaked mountains and waterfalls that are unsurpassed. The wildlife in this region is abundant. As you make your way up Fisher Channel, Codville Lagoon has excellent anchorage. At the head of Fisher Channel is Cousins Inlet and Ocean Falls. This was once a thriving pulp and paper town, but no more. Although off the beaten main route, visiting crafts will find good moorage here.


---

Foggy morning in Bella Bella
---
From Fisher Channel, cruise into Lama Passage and Bella Bella. This is a major fuel and supply stop. Shearwater is another spot that has facilities, including a post office, laundromat, a resort hotel with restaurant and pub. Serious repairs, haul-out service and moorages are also available. More good protection and anchorage are found at Strom Bay and Strom Cove as you head into Seaforth Channel, Milbanke Sound and open water. Should you wish to avoid the open waters of Milbanke Sound, take Reid Channel into Mathieson Channel. Oliver Cove and Boat Inlet have good protection and anchorage space. This cruise goes into Finlayson Channel by way of Oscar Passage. If you wish to visit Fjordland Recreation Area, take Mathieson Channel. The scenery in Fjordland is awesome, but anchorage spots are scarce.
Finlayson Channel to Douglas Channel:

The Inside Passage continues across Mathieson Channel, through Perceval Narrows and into Finlayson Channel. The next supply centre is Klemtu where you can stock up on gasoline, diesel fuel, lubricants, and water. Klemtu has a store, cafe and post office. Mary Cove across the channel from Klemtu offers some protection and anchorage for small crafts. Make your way up Tolmie Channel, Graham Reach and Fraser Reach, where the north coast main land is on one side and Prince Royal Island on the other. This is a pleasant area with many waterfalls cascading into the deep waters. Both reaches are straight and wide, meeting cruise ships and other large vessels is an everyday occurrence in this region. Butedale in Fraser Reach offers protection and anchorage. This once thriving cannery has fuel and primitive dorm camping. When you reach Angler Cove, you can take Ursula Channel, Devastation Channel or Sue Channel into Douglas Channel. Continue going north and by-pass Douglas Channel, by way of McKay Reach, Wright Sound and into Grenville Channel.
Other Regions:
Back to:

Book a Trip