---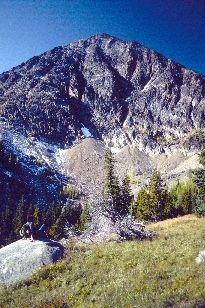 Hiker near Pyramid Mountain
Alpine hiking in British Columbia's mountain parks usually means being extremely fit or extremely rich.
Cathedral Provincial Park is one welcome exception to this rule. Here, in one of the more beautiful mountain environments in Canadaís westernmost province, the slightly fit and slightly rich can rub shoulders with well-heeled adventurers from around the world.
Cathedral Provincial Park is located south of Keremeos, in the heart of the Okanagan Range of the Cascade Mountains, a spur of the continent-long cordillera that juts north into Canada. Its southern border runs along the Canada - United States boundary. The core of this mountain wilderness park is a cluster of half a dozen sparkling lakes set in an ancient basin over 2,000 metres (6,500 feet) above sea level. Picturesque alpine ridges and rugged peaks surround the irregular basin.
The last Ice Age smoothed some of the ridges, making hiking relatively easy. Other peaks have obviously missed the grinding action. These offer a challenge to even the most skilled hiker or mountaineer.
Although the sub-alpine core of the park and the surrounding alpine ridges does not appear to have supported year-round human inhabitants, it has attracted visitors for countless centuries.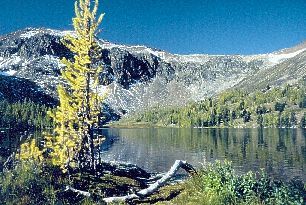 Glacier Lake
Researchers suggest that Natives from the Okanagan and Similkameen valleys hunted the alpine ridges in search of the prized fur of the hoary marmot.
Katharine and I first visited the Cathedrals in mid-September nearly two decades ago. Neither of us would have been considered particularly athletic -- teaching school and writing about the outdoors weren't as stressful in those bygone days.
With a back-pack full of camera equipment as an excuse for frequent stops, we trailed the footsteps of the younger, more agile hikers.
The autumn colors were just starting to show in the Similkameen Valley, but up at Quiniscoe Lake (elevation 2070 metres or 6790 feet)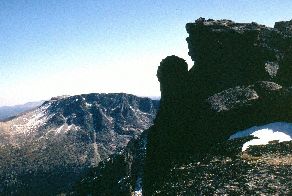 Smokey the Bear
the larches were a brilliant gold. We spent several days exploring the alpine ridges, wandering as far afield as the Giant Cleft and 2551 metre (8370 feet) Quiniscoe Mountain. In the evenings we rested our weary feet in the comfortable surroundings of Cathedral Lakes Lodge at Quiniscoe Lake.
We quickly appreciated the entrepreneurial foresight of lodge-founder Herb Clark. For it was his effort that created the equalizer that has allowed access for those of us who lack the motivation or stamina to back-pack 16 kilometres (10 miles) up a mountain trail.
Although I've seen written accounts of visitors exploring the alpine nearly a century ago, it wasn't until the mid-1930s when "tourist" traffic into the area began in earnest. It was then that Herb Clark purchased Crown land near Quiniscoe Lake and built two cabins to serve his guiding clients.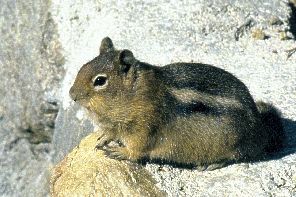 Golden-Mantled Ground Squirrel
For three decades Clark took hikers, hunters and horse riders into the Cathedral wilderness.
Then in the mid-sixties, with Tom Fleet and Karl and Helmut Gehringer as partners, he built a jeep road into Quiniscoe Lake. By 1975, the operation had expanded to include a comfortable two-story lodge.
One of Clark's early acquaintances and guiding customers was the late Chess Lyons, more recently known for his plant identification and "Mileposts" books. Chess Lyons was, in the late 1930's, head of BC's three-man "Parks Branch". In that capacity he recommended that the area be declared a provincial park in order to protect the outstanding beauty and wilderness.
It took nearly 30 years to react, but in 1968 the BC government created a 7,000 hectare (17,000 acre) park.
The general outcry was that this was too little, too late and, in 1976, they expanded the park to over 33,000 hectares (82,000 acres).
In what has occasionally been a tenuous relationship, Cathedral Lakes Lodge has remained a private concern in the heart of a public park. Today, under the management of Richard Padmos and his staff of nearly a dozen, the lodge and adjacent cabins can serve over 50 guests. A professional chef and assistants keep the guests well fed with nourishing and imaginative meals. With a lodge full of hungry hikers and the nearest supplier several hours away, this can sometimes be a daunting task.
The lodge usually offers special programs, including watercolor and photography workshops, during the summer months. While group classes are scheduled in advance, individual lessons are often available for an economical fee.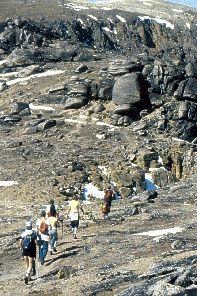 Giant Cleft Trail
While a pad of 140 lb. watercolor paper, an easel, tools and paints arenít standard equipment for most back-country explorers, a good camera and plenty of film should be.
Whether your Cathedral Provincial Park destination is the lodge or one of the several BC Parks tenting campgrounds, there is plenty to see and do. For the adventurer, well-marked trails lead to beautiful alpine ridges and jagged mountain peaks, some reaching 2628 metres (8622 feet). The less mobile can tackle the easier trails to the core lakes. If wildflowers or unusual plants interest you, experts have identified over 230 plant species in the park including over 20 that are rare to BC. Animal life is also quite varied and approachable. If you take your time, you may be able to photograph a broad range of wildlife from the tiny ground squirrel to some of the largest mule deer bucks I've seen. For those concerned about bears, they are a rare occurrence in the park.
If you are planning to explore Cathedral Provincial Park, here are a few pieces of advice courtesy of lodge and park staff.
First off, plan for variable weather. It can snow there any time of the year -- and probably will. Drinking water can be in short supply on the ridges -- carry at least two litres (quarts). Carry a first-aid kit, maps and a compass -- the trail network around the lakes can be confusing. Finally, the driest season is usually early August to late September.