Murphy O. Shewchuk
Book List
Biography | BC Adventure | Articles
---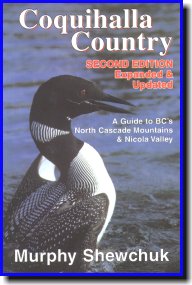 Coquihalla Country
Second Edition
1997
ISBN 0-929069-10-2;
Sonotek Publishing Ltd.
$18.95 Cdn
This is the perfect outdoor recreational guide to British Columbia's North Cascade mountains and Nicola Valley, commonly known as Coquihalla country. The area- covered in this book stretches from Hope to Kamloops and from Spences Bridge to the Okanagan Valley.
"Coquihalla Country" offers complete details of interesting out-of-the-way trails and roads, most are good 4 by 4 travelling, while some are for hiking only. There are more than 35 maps and 50 photos, information on climate and vegetation, fish, wildlife, insects and the reptiles in this region. Chapter 35 details the birdwatching sites between Merritt and Kamloops via Highway 5A and Chapter 48 details the history and settlement of Coquihalla Country. Enjoy fishing the many lakes, visit historic sites, go hiking, backpacking and cross country skiing and be well informed with the help of "Coquihalla Country" by Murphy Shewchuk.
---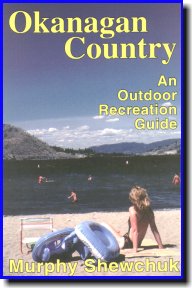 Okanagan Country
An Outdoor Recreation Guide
1992
ISBN 0-929069-04-7; Sonotek Publishing Ltd.
$14.95 Cdn
This outdoor recreation guide to the Okanagan is the ideal companion for anyone exploring this area of British Columbia. The diversity of the landscape includes semi-desert land, barren hillsides, lush green valleys, and timbered mountains. "Okanagan Country" takes you exploring out of the way places and city parks. Find out which lakes offer excellent canoeing, go hiking in the back country, discover mountain biking trails, or just the many photo opportunities this region has to offer. The book has more than 20 maps, 40 photographs, historic facts and information that make outdoor recreation opportunities easy to find and fun-filled.
---